EXHIBITION INFORMATION : Hiroshi Mizuta

 Interrupted Stories February 9 – 21, 2016
I am holding an exhibition at Gallery Kei-Fu in Kyoto. Almost all of paintings are painted on stitched canvas like patchwork quilt. It's not necessary to stitch them but this process makes me motivated to paint. I think getting out of control is important too. Normally painting is controlled by painter so it's too easy to expect what will happen next moment and how the painting completed. So I needed to weave contingency into my process. I feel this random patchwork canvas is helping me to do so.
This exhibition is held until this weekend. I would be delighted if you would take the time to visit the gallery and see my works.
Hiroshi Mizuta


Interrupted Stories
2016. 2. 9 [tue] – 2.21 [sun]
12:00 -19:00 (Last Day 12:00 -18:00)
Closed on Mondays.
admission free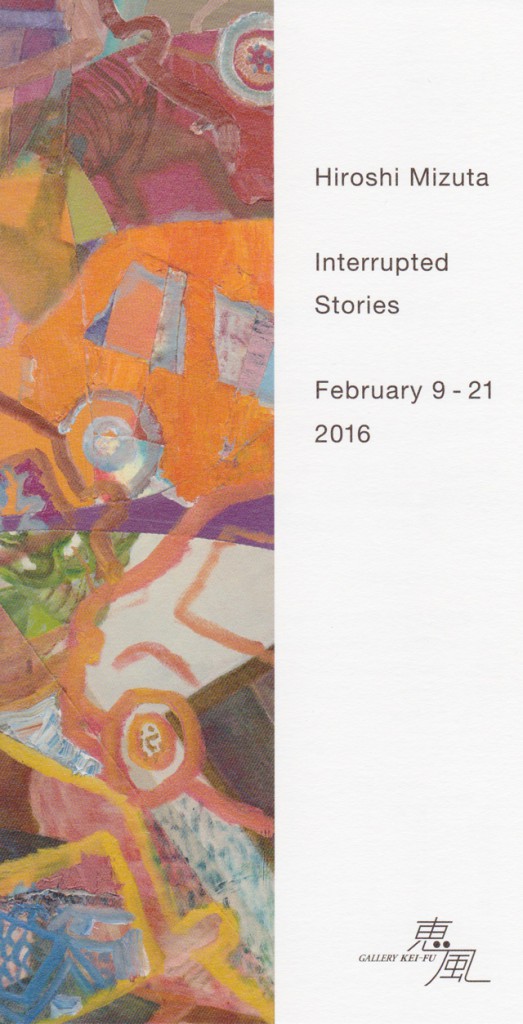 Access
By train
Take Keihan Railway to Jingu-marutamachi. About 5 minutes walk from the station.
By bus
Take kyoto city bus to Kumanojinja-mae. About 5 minutes walk from the bus stop.
4 minutes walk from Kyoto City Art Museum.